Bio / Booking
Contact Info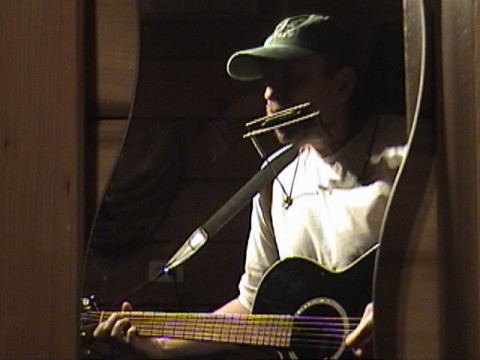 Location
Qualicum Beach, British Columbia, Canada
Phone
250.594.9225
Email
george (at) georgegoodman.com
Websites
GeorgeGoodman.com, harpnguitar.com
Bio
I was the fifth of five kids in a musical family. Born in the sixties and influenced by the music my older siblings were listening to including Neil Young, Bob Dylan, The Rolling Stones, The Band – some of the best music ever recorded.
There were always musical instruments around and everyone was encouraged to join in. Kind of like my place now.
I started on piano and migrated to saxophone in elementary school. I continued playing tenor sax throughout school and into college where I completed a commercial music diploma program at Capilano College, North Vancouver, in 1989 majoring on tenor saxophone.
I can't remember ever not owning a harmonica and have had a guitar since high school. I made my first harmonica holder out of an old wire coat hanger after hearing an interview with Chrissy Hynde of the Pretenders telling how she did that very thing.
Since then there has been countless bands and gigs, some jazz, some blues, but mostly and most happily classic rock n roll. My favourite gigs have been playing solo acoustic guitar, harmonica and vocals. This is still my preferred gig and what I am currently showcasing.
Demo Videos
The following YouTube playlist contains a combination of in studio covers as well as jam along excerpts from my video song lessons.

Set List
Neil Young
– Heart Of Gold
– Harvest
– The Needle and the Damage Done
– Long May You Run
– Walk On
– After The Gold Rush
– Harvest Moon
Buffalo Springfield
– For What It's Worth
Bob Dylan
– Like A Rolling Stone
– Knockin' on Heaven's Door
– All Along The Watch Tower
– Boots of Spanish Leather
– Don't Think Twice, It's Alright
– I Shall Be Released
JJ Cale
– Cocaine
– Call The Doctor
– After Midnight
– Magnolia
The Rolling Stones
– You Can't Always Get What You Want
– Sweet Virginia
– Dead Flowers
– Salt of the Earth
The Band
– The Weight
Jonathan Edwards
– Shanty
Jimmy Cox
– Nobody Knows You When You're Down and Out
Dr. Hook
– Cover of the Rolling Stone
– Freaker's Ball
Jethro Tull
– Locomotive Breath
Joe Cocker/Dave Mason
– Feelin' Alright
Alice Cooper
– Eighteen
Gordon Lightfoot
– The Wreck of the Edmund Fitzgerald
Jimmy Buffet
– Margaritaville
America
– Horse With No Name
The Animals
– House of the Rising Sun
Kris Kristofferson
– Me and Bobby McGee
John Prine
– Angel From Montgomery
Canned Heat
– Goin' Up The Country