Hi, George here.
Thanks for your interest in checking out 'How To Play Harvest Moon on Guitar and Harmonica'.
You can find this lesson and others, complete with harmonica tabs and other helpful information so you're sounding great, at HarpNGuitar.com.
Register for your free account here: Free Members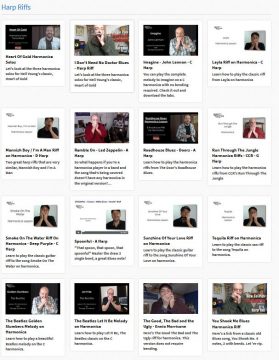 and start learning Harvest Moon or any other of the dozens of Song Lessons and Harp Riffs lessons.
No payment or credit card required.
Just a first name and email.
Here's a sample of lessons all available free:
Bob Dylan
* Girl From The North Country
* Knockin' On Heaven's Door
* Like A Rolling Stone
* The Times, They Are A-Changin'
Neil Young
* Harvest Moon
* Long May You Run
* Heart Of Gold
Tom Petty
* Learning To Fly
* Mary Jane's Last Dance
The Rolling Stones
* Wild Horses
* Sweet Virginia
* Dead Flowers
More Artists
Johnny Cash, John Prine, Stevie Ray Vaughan, Bruce Springsteen, J.J. Cale, Billy Joel, Gordon Lightfoot, Donovan, Sonny Boy Williamson, Cream, The Beatles, The Doors, Muddy Waters,…
Here is the link again to sign up for your FREE membership and get access to a bunch of great lessons:
Free Members
All lessons include downloadable help files with harmonica tabs, chords and lyrics.
See you there.
Peace. Stay in Tune.
George