Hi, my name is George Goodman and I want to help you learn how to play guitar and harmonica.
I am really excited to announce that I have just released, in eBook format, The Guitar and Harmonica Method.
Have You Ever Wanted To Learn How To Play Guitar And Harmonica?
To get up and perform tunes at the local open mic?
To entertain around the camp fire?
Or join in on a picking and grinning kitchen table gathering?
Or just for yourself?
Or maybe you want to take it further and are looking for some serious instruction to get you started?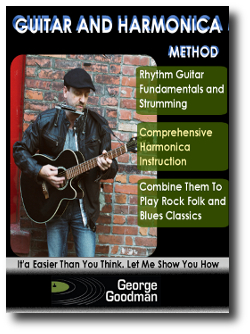 Then the Guitar and Harmonica Method can help.
The first section of the Guitar and Harmonica Method focuses on rhythm acoustic guitar basics taking the reader through the various parts of the guitar, what to look for when choosing a guitar, 3 different ways for holding the guitar, how to tune a guitar using the guitar itself, using a piano and using an electronic tuner. The reader will also learn chords and how to read chord diagrams, followed by strumming, counting, and playing rhythms. The goal of this section is to learn to play solid rhythm acoustic guitar to accompany the harmonica and vocals.
The second section focuses in on the diatonic harmonica and includes choosing the right harmonica, parts and maintenance of the harmonica, techniques for getting the best sound, 2 different ways how to play single notes, 5 different ways to produce a professional sounding vibrato, how to bend notes and helpful techniques to get you bending quicker as well as harmonica embellishments and tablature.
Finally, the third section brings the two instruments together. Basic music theory is explored to help explain which key harmonica to use depending on the chords and style of the song and what notes or holes to play depending on a particular chord.
Practice exercises bring these concepts home, bring the two instruments together, help refine the skills you develop from the first two sections and introduce ear training to hear chord tones, scale tones, degrees of the scale, intervals and to understand what you're hearing.
Also covered in the third section is an introduction to the Blues. Learn the common 12 bar progressions for the Blues, how to pick the right key harmonica for the Blues, where the Blues chord tones are on the harmonica, as well as how to play the blues scale on harmonica.
The Guitar and Harmonica Method is available in all eBook reader formats for easy accessibility so you can take it with you. Don't forget to carry your harmonica with you too.
Cheers, George
Get the Guitar And Harmonica Method at these online bookstores